Exploring Alsace - the place, the experience, the food (and a bit of the wine too!)

We went there because we loved the wines, and were overpowered by the combination of picture postcard villages, wonderful people, the majesty of the High Vosges and, of course, the wines. With the Vosges on the East and the Rhine on the west, La Route des Vins stretches from Marlenheim in the north to Thann, west of Mulhouse, in the south.
Our first experience of Alsace was taking the N4 out of Strasbourg to Marlenheim and then wandering south, stopping for lunch at Obernai. A half-bottle of Baltzinger 1991 Gewürztraminer from Barr was excellent and refreshing, if a little over sweet at the end. I had the sauté spuds (quite thinly cut), served with a bowl of fromage frais and separate bowls of finely chopped onion, garlic and parsley. If the rest of the experience measured up to this it could be gastronomic heaven.
On to Ribeauville (home of Trimbach), and it is seriously gorgeous, but packed with tourists. (Yes, I know we're tourists too but...) We found one of our intended lodgings, "les Vosges", nondescript as per the guidebook but right in the heart of town. "Les Alisiers", above Lapoutroie high in the Vosges mountains looks like a better idea. We climb up various tracks until finally arriving at the farmhouse, all pure air and breath-taking scenery. Well done the "Charming Small Hotels Guide".
When they say dinner is 7.30-8.30 they mean be there at 7.30! The chef calls to ask us to come down, or else his tarte a l'oignon will be spoiled. After the tarte come charcouterie (sausages and bacon, plain and smoked), Munster cheese and choice of sorbets (framboise with ditto firewater and pistachios with other unidentified liquor). This was followed by coffee and marc de gewurtztraiminer. Everyone else is in bed by 9.30; we stay up and look at the stars for a while.
We awaken to the crispest, freshest, most beautiful morning I've seen for many a year and after breakfast make for Riquewihr. Everything is fresh and lovely. The weather is perfect; crisp and clear, sunny but not too hot. The town itself is almost too beautiful and terribly crowded. If there is one complaint I have about Alsace it's that it can be too "chocolate-boxy", but the fountain and the flowers in the warm, dry sunshine cannot but make you feel that "God's in his heaven - All's right with the world!"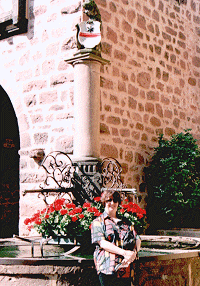 We find Hugel and Dopf & Irion (see tasting notes), not to be confused with Dopf du Moulin etc., and life becomes even dreamier. I first found Dopf & Irion on the wine list at Les Freres Jacques in Dublin (sadly it no longer appears, although there is a pleasant Kientzheim-Kayserberg one in its place) and had been looking forward to visiting for a long time.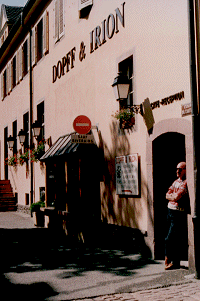 We have lunch in a gorgeous cobbled courtyard. For 69FF we have galantine, chicken with something like strips of potato cake, and ice cream and "jam" for dessert. A bottle of Dopf du Moulin Gewurtz washes it all down admirably.
Onward, to Koenigsberg. Huge, massively impressive, "newly" renovated by Kaiser Bill around 1904 - he must have spent millions.
Dinner back at the farm is ham and melon, followed by salmon trout and pasta in a smoky cream sauce, Munster cheese, and hot plums with eau de vie and ice cream. The wine was Sick-Dreyer Gewürztraminer, and I tried eau de Quetsch with the coffee. We're in bed by ten - must be the mountain air.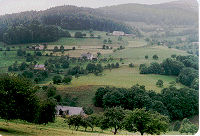 Next morning the rain is coming down like stair rods, so we make for Colmar and find an hypermarché wherein we wander and investigate the local culture by looking at what's on the shelves. This, believe it or not, is great fun when in foreign climes.
After lunch we go to Unterlinden. Yes, I know the Issenheim Altar Piece (executed by Matthias Grünewald between 1510 and 1516) is one of the masterpieces of medieval art, but it did nothing for me. The JC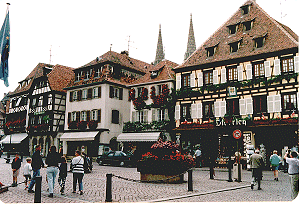 Hirn paintings were rather good though - he was either very fond of hydrangeas or he used them to show off his technique. His work reminded me a lot of the flowers on dark background by Sisley in the Musee d'Orsay. Hansi seems to have been an impressionist, and Anya liked him a lot.
Away to Kayserberg. It's about as charming as they come. We were especially taken with the pottery with comic figures (spent more money) and the beer specialist (even more) and finally the pottery with a curd strainer for making cheese, something I've always wanted (wonderful, understanding person, my bank manager). After coffee and cakes we visit Jean Dietrich (see notes).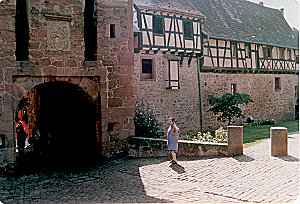 Lapoutroie, on the way back to the farm, has a Musee des Eaux de Vie. There is one made from Aliziers, the same name as the farmhouse, which turns out to be one of the local berries - a Crataegus (hawthorn) with smooth leaves. This stuff makes your eyes water.
Back at the farm dinner is vegetable quiche, blanquette de veau, Munster with caraway seeds and tarte au chocolat. Wine was Faller Gewurtztraminer, followed by a half bottle of Kientzheim Tokay Pinot Gris.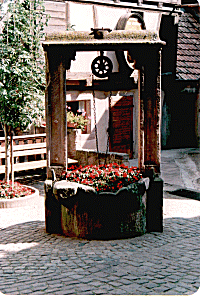 It was three years before we managed to get back to Alsace, and mindful of the great time we had in "les Alisiers" we opted for another sojourn in the mountains. This one is Kiboki, a hotel with swimming pool, sauna, jacuzzi, etc. The D993, along which my navigator (now happy having purchased a large-scale map of the region) directed me, seemed to disappear at Cirey-sur-Something or other, but was found again with a little backtracking. Very nice people at Kiboki, and a walk before dinner reveals a crystal clear, fast flowing stream with trout. Pity I've no fishing tackle.
The food is good, and we try Gewurtztraminer Jenny, Kientzheim. Wonderful pale gold colour. A bit light, smoky, flavours of tea and leather. Good but not great. After dinner we have some Hippolyte Grains Noble. Gorgeous. Then Cognac on the balcony outside our room. I could get used to this kind of living.
Breakfast is a bit of a shambles, but, we are told, M. Schmitt is going to the shops today so we should have much more of everything tomorrow. So there! After brekkie we lounge in the sun and have a swim. The only sour note is the tightness of the swimming shorts. I can't convince myself that they shrunk since last year; middle age and good living are, I fear, to blame. Off to the pool for a (futile) attempt to get back the slim figure of my youth.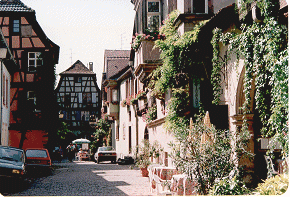 In the afternoon we made for wine country. The trip took much longer than expected on twisty, mountain roads and also included a narrow, diesel filled tunnel to Selestat with no obvious entrance when travelling south - we had to do a (probably illegal) U-turn. After a quick beer to refresh we go on through Kitzheim and Ribeauville (Dublin-style traffic) to Riquewihr and Hugel.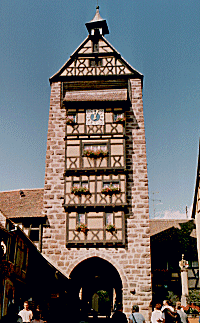 The man at Hugel was initially pleasant enough, but when Anya started to order he became much more so. We started with the Jubilee Riesling (thought it a bit tired) and carried on through most of the range to their grains nobles. (See notes). Carrying the purchases back to the car nearly did me in, and added considerably to the strain on the car's suspension (already laden down with Champagne and later Burgundy and Chablis). We also took with us "...and give it my blessing...", a very useful booklet on the gastronomy and wines of Alsace first published in 1967 by Jean Hugel (1898 - 1980).
Quite a rush to be back for dinner at 8.15, traffic was awful and we were stuck behind one of those big yellow diggers with no chance of overtaking. Dinner, however, eased away the stresses and strains. We tried a little Pinot Blanc to start (very good) and then Munsch, St. Hippolyte extra special Gewurtztraminer, which was only OK. (We had been a bit spoiled earlier, though.) Over dinner we heard that the guy who owns the St. Hipployte vineyard also owns a Relais de Silence, and that berix (this evening's fish) is some kind of deep water, cod-like creature.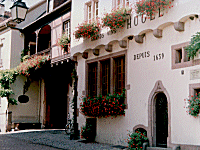 The following morning was lovely, and a brisk walk in the forest would have been idyllic except for the flies' interest in us as breakfast. Kiboki is miles from anywhere in the middle of a huge expanse of mountain woodland. All around are walking trails, with arrows painted on the trees lest you get lost, and colour coded to boot so that you can choose between easy, medium and difficult treks.
Lying in the sun and swimming take up the rest of the day until four, when we make for Schirmeck, a pleasant looking town nearby. Not a lot to see and do in this little sleepy, provincial place, so we get back in good time for dinner. Tonight's menu is onion tart, salade Nicoise, sole in creamy sauce, cheese, peaches in wine with ice cream and coffee. (Did I mention becoming circumferentially challenged?) The waiter is friendly and chatty and keeps us up to date with the happenings in the world. The wines are Pinot Blanc, Jenny Tokay Pinot Gris and finally a little local Pinot Noir (very light and not to our taste; slightly sweet) with the cheese. And so to bed.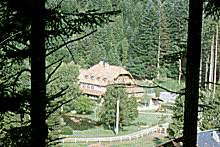 An episode of high drama punctuated the lazy afternoon. It was drawn to our attention by the sudden agitation of "Whitey", "Pinky", "The Niece" and "Mama", who had been sharing the afternoon sun with us. They, together with Mama Canard and the Canetons, were the dramatis personae of the affair. One caneton had disappeared, and Mama Canard was quacking furiously. It appeared that baby had got into the pipe connecting the pond with the river. The Niece got a long-handled net and held it over the outlet while Pinky (all right, it was because of the colour of her bikini if you must know) let some water through the sluice. Whitey (named for similar reason) watches.
After many attempts the caneton swirled into view, but evaded the net. Mama had by now joined in, and she and Whitey climb down into the sluiceway and finally grab the duckling and return it to Mama Canard, who kicks up a terrible fuss. You can hear in her tone every human mother who ever got a child back safely from mortal danger. Eventually peace was restored; sun worship continued.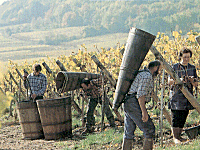 Up at the crack of dawn (well, for us anyway) and off to Turckheim, home of Zind-Humbrecht. We are great fans of their Sylvaner, and have been planning to investigate the entire range. Sylvaner is generally not the most highly sought after grape, so if they can make a good wine from it, think what they might do with Riesling and Gewurtztraminer. Although we had tried and liked their basic offerings we were really looking forward to trying the top of the range stuff.
The trip is not much shorter than the first assault on wine country, even if we now know where we are going. Turckheim is a lovely spot: walled village, fountains, timbered houses, flowers and as higgledy-piggledy as all the best Alsatian villages. No sign of Z-H, but the tourist office directs us to it, out on the Colmar road. It's closed. A notice directs us to a wine shop in Colmar during their jours de fermeture, so off we go.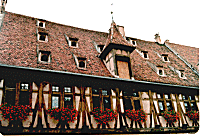 Anya dislikes Colmar intensely, and although I don't find it so bad - in particular I like the area around the cathedral - it's not much fun searching out this place in the noonday heat. We finally find it, a normal off-licence, and no, we cannot taste. Exit in a very foul mood.
Kayserberg is as magical as ever (although a friend who has just returned from there - July 1998 - says that the traffic is now awful). We decided to pick a wine maker at random to visit. The cellars of M. Salzmann-Thomann are at Domaine de l'Oberhof, once the property of l'Abbaye de Pairis, off a courtyard which also boasted a charming 14th century chapel. We followed the signs promising degustation to a large, heavy door with a latch reminiscent of an Irish farm door of days gone by. Unfortunately it was locked. As we turned away disappointed the old gent standing with his wife on the balcony next door got very agitated, calling to us in rapid-fire French way beyond our ability (admittedly poor even at the best of times) to comprehend.
He disappeared into the house and reappeared into the courtyard with a huge iron key. He was the retired owner, his son having taken over, but he was more than happy to give us the full tour and tasting in the offspring's absence. If you visit Dopf or Hugel you are in a modern, plush shop environment; here we were in the large, cool, working cave complete with dusty motes in the sunbeams through the open door. They did, however, have the modern pump contraption for tasting without opening the bottles to the air and so we set to with gusto.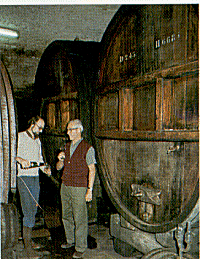 We tasted Gewurtztraminer (various) and his Tokay Pinot Gris Grains Noble, which was stunning. The basic Gewurtz was good ('93 better than '94) and the Reserve was excellent. The vendange tardives was pretty good too, and all were at prices that made the better known names look ridiculous. The car suspension got another hammering, when we finally managed to negotiate the pedestrian zone in the town centre in order to pick up our purchases. Salzmann-Thomann fils had returned by then, offering yet more degustation and explanation, and hoping that pere had treated us well.
All in all a very pleasant experience, and just one of the reasons for wanting to get back again and again to this fascinating corner of France.



Notes on the Wines

Browning Quote

Some Tasting Notes


Home

Tasting Resource

Tasting Notes

Quotes

Links