Blogging from China isn't the easiest thing in the world, it seems. I tried Wordpress many times but it was mysteriously 'unavailable' (as was CNN when the subject of Tibet came up). Now it might have been simply congestion but, in any event, whatever sedition I was going to post wasn't getting there. This is my alternative.
A China Diary
Sunday 30/3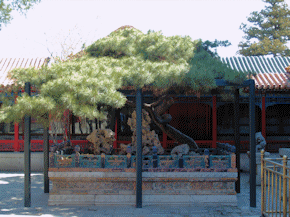 We've booked a hotel car and so we swish to the new terminal 3 in air-conditioned comfort. On the way we decide that it's been a great experience but that we wouldn't want to stay long-term. On the other hand, if the right opportunity came up, it could be fun for a few years.
We're early; and no-one seems to know whether there's a Priority Pass lounge. Eventually I see a covered-over PP sign at the Air China First Class Lounge. We find an excellent café-bar-restaurant called The Lucky Shamrock or something. It sells Guinness and Kilkenny but we settle for coffees and cheesecake - and free Internet access, which shows that, as of next Tuesday, the lounge will be available to Priority Pass holder. Ah well!
Uneventful flight; the most exciting thing was Angelina Jolie claiming Beowulf at the end of the eponymous movie. We're 30 minutes out of Heathrow as I write this. Time to go back to the latest John Rain novel.
Needless to say, the BMI flight to Dublin was delayed and we're feeling very tired. At least we landed at T4 and the very pleasant BMI lassie said that there was therefore some chance that our luggage would accompany us. It did. Home with the mutts; tired and happy.
The End.
Saturday 29/3
I do hope the others, travelling today, don't feel as I do when I wake up. The local firewater has its revenge! Breakfast, preliminary packing and off to order prescription sunglasses for the management who, impressed by the vari-focals, has decided that it's too good an opportunity to pass up. At the shop, sunglasses expand to include reading glasses and they will have them about six so we don't even have to have them posted home. We have a beer (Y150 a pint) in the Finnish café and retire to the hotel for pampering. It's quite an experience; two very pleasant girls give us a Chinese TCM massage. I've never had anything like it! They climb all over you and press and probe with fingers, elbows, knees, hands into every muscle - very hard but very relaxing. Then a pedicure and a sauna and shower. I'm dripping all over the carpet as I go back to the room, relaxed, happy and not noticeably poorer - it's very inexpensive..
We've decided to go to the Loft tonight, having failed last night due to the taxi strike so, after collecting the specs, we finally convince a taxi to take us there. It's not far away but the first guy, after he'd talked to the restaurant, decided he doesn't want to bring us; at least he tells the second guy where we want to go. The place is über-trendy and minimalist in a strange sort of way, like full-sized chandeliers inside giant, red lampshades, polished tile floors, wood, a collection of those rectangular bronze urns behind the bar. It's a hotpot restaurant but light-years away from the one we'd lunched in the previous day. We had to get help ordering and started with peanuts in black vinegar (a real hit with both of us) and the yam with red fruit sauce that I'd seen recommended in a review (not so wonderful to our taste). Unfortunately they were out of goose liver in sake, which we both wanted to try. We ordered sesame sauce and spicy soy (you wouldn't believe how hot - it came with additional stuff to make it hotter and for the first time in my life I declined to try it). We then had spicy (me) and hot and sour (my beloved) soup, over a flame, in which you cook the meat and stuff. We had really thinly sliced beef, meatballs and shellfish balls, taro root and lotus. The beef was the best, but I liked the lotus and taro more than Anya.
The wine list was, for China, extensive and, although it had some mad priced stuff there was sufficient at very reasonable prices - or so it seemed. The Oz Shiraz we ordered first was fine but when we tried for a glass of house wine to finish off there wasn't any red. There wasn't any of the next two choices either, nor even another bottle of the Shiraz. they finally brought two somewhat dearer options. Other than that it was a great experience; great decor, great service, great food - and a great recommendation from Mark.
Friday 28/3
I've contacted Zac, who I met at the Irish Embassy bash, and he's going to introduce us to Beijing's version of Akihabara, Zhongguancun electronics shopping market. Geoffrey and I set forth to brave the metro and navigate (very easily - we're impressed) around line 2 to line 13 and get off as instructed to meet Zac.
The place is amazing; I've never seen anything like it: a cluster of tower blocks all selling the same thing. As Zac sad, the Chinese mentality seems to be to put together everyone selling the same stuff into the same place - think of the Silk Street Market - and let them try to sell with no differentiation whatsoever. We can't figure out how they are supposed to attract customers: everyone is selling exactly the same thing and, especially in the first building we visited, which was just open, there were many times more staff than customers. Not only that, they close at six and anyone likely to buy is probably working while they're open, so they presumably sell only on weekends.
There seems to be a standard layout: the ground floor is the big names and mainly PCs and top end cameras. As soon as you walk in the door you're accosted by a barrage of sound as a cohort of be-suited 'sales executives' try to get you to their booth. They follow you, even up the escalators, bombarding you with offers. The second floor is also big names but you're getting smaller stuff as well. (DVD players are out, by the way, it's MP4 all the way). Prices, unexpectedly, seem to be about the same or worse as at home and Zac says that there's not the same kind of negotiating room as in the clothing/pearl markets. The next two floors go more downmarket, with memory, disk drives, USB devices, mother boards, second-hand laptops - you name it. There's usually a food market on the top floor. We walk, totally bemused, through a few of these, ending with the maddest one. Geoffrey opines that it's probably the worst place to try and buy anything because there's just too much of everything.
We lunch with Zac at a hotpot restaurant just across from his apartment - another experience. This is a local place with no tourist menus and local office workers coming in for their lunch. It's a hotpot restaurant and Zac orders for us. We get sweetish taro-filled rolls sealed with sesame seeds; these aren't dessert but are eaten at any stage during the meal. I like them (and we bring away two for the ladies to try). The hit pot is bony mutton and very spicy; very nice. A few beers and good conversation, as we learn more about an ex-pat lifestyle in Beijing, make this a pleasant interlude. Zac will be in Dublin soon so we'll try to meet up.
Then back to the Metro and, with our 20 euro cent tickets, travel via lines 13, 2 and 1 to meet the girls at a Tex-Mex place on Silk Street. The line exits through the basement of the market and I lead Geoffrey straight through, across the road and into the restaurant. I think I deserve a boy scout badge for that.
On the metro we had met three lovely girls who had waved, said hello and asked us about our trip. They asked whether Geoffrey was my father, which didn't please him very much; at the restaurant I kept calling him "da", just to make it worse. Our ladies are in fine fettle, fuelled by a morning of shopping and a few beers and wines. (The restaurant offers bad food, warm beer and poor service so it's difficult to complain.) Hard bargaining had gone on and Val especially had let the shopping gene express itself in a big way, accompanied by a very strong haggling ability. Not sure who won though; Val with twelve pairs of cufflinks or Mary with thirteen!
It's raining as we make for our tailors to collect the goods; taxis are in short supply and even shorter when we re-emerge. We eventually get back and after research online book into the Loft/Hot Loft for a celebratory last night group dinner. Unfortunately there's a queue for taxis and none forthcoming so we eventually cancel and go to the restaurant attached to the hotel. The main menu there is a weird and wonderful thing and eventually we chicken again and go for the feast. After dinner I ordered a 500ml bottle of local firewater and we toast ourselves, the trip and absent friends (Hi Kate!).
Thursday 27/3
We see on TV that there is a mess at Heathrow T5 (unlike the new Beijing T3); we hope it doesn't screw up our flights home.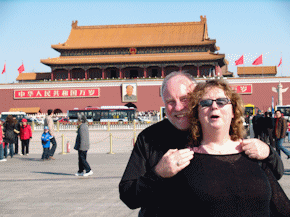 Anyway, back to tourist mode and Tienamen Square. It's packed with thousands of people and you have to go through a security check to get in. It looks like a huge square full of tourists: the historical significance is hard to envisage.
We then revisit the Forbidden City. Our guide is less than useful; she appears to know diddly-squat about the place and annoys us in that, when we insist on going to the treasure house and the emperors private garden (and pay the extra trifling to get her in too), she doesn't even bother to find out what it's all about.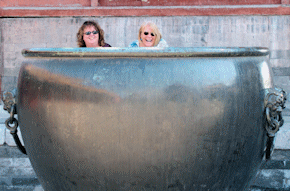 Seems like they did cannibalism here too - see right. (Actually these are the fire hydrants of yore.)
We then do the hutong thing, the second time for me: it's a shorter trip than we did with Mary (come back - all is forgiven!) but we end up visiting the same house but with a different owner - it looks like they get actors to do the owner bit! We buy excellent names written in coloured inks as birds, animals and fishes - the man who did it was extremely talented and very practised.
After the trip we find out that lunch is near the Summer Palace - not useful for us and we wish that she had told us the previous day. This was yet another example of where we were messed about by our lousy itinerary; in fact, had we known that a visit to the Summer Palace (Anya's no. 1 must see in China; more important than the Great Wall and the terracotta warriors) was in the schedule we wouldn't have gone on our own in the first place.
We are to meet for dinner at a special Peking Duck place, Cecilia tells us that the others will get there between 5.30 and 6.00 and that it will take 30 mins at rush hour. So, off to do our own thing for the afternoon. The taxi drops us outside a restaurant called Tim's Texas Steakhouse and the temptation is too much. Good food, cheap beer; what more could you ask for?
The 30 minute trip to the duck restaurant takes an hour, and it wasn't even the traffic until the very end (it took 45 minutes to come back later after the rush-hour had finished. We finally arrive and find that the food had started coming at 5.30 on the dot and that neither the restaurant nor our guide had been impressed with the gang's efforts to make them wait for our arrival. Not only that but they had taken the boat and cut about an hour and a half off the Summer Palace visit and our guide had called ahead to the restaurant to reschedule: needless to say, she hadn't contacted us. (She hadn't told them anything much about the Summer Palace either; my position as unofficial guide is safe, it appears. J) We are not happy bunnies and the food was fairly so-so as well, so back to the hotel and a 'sleeping beer' that turns into many.
Wednesday 26/3
A quick trip to the Muslim quarter and the great mosque, which is peculiarly Chinese and a nice place to visit. The attached souk is a great place; something like the Silk Market in Beijing but subtly different. It's the fronts of the private houses of the local muslims, along a number of alleys. The lure of shopping got to almost everyone: I got a Mao watch and Anya a kite.
Off to the airport and back to B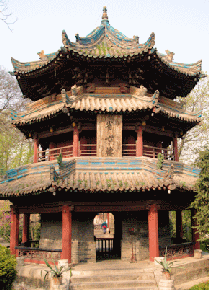 eijing: we feel like old China hands now. We landed at the new terminal; first day Air China used it. Very, very nice. Met by Cecelia, the guide we had had before and off to the hotel, where Geoffrey got back the items he had left behind - despite our guide telling us that they hadn't been found. Our suspicions about the quality of service she delivers are growing. Then shopping and another excellent dinner in Xiao Wang's in Ritan Park.
The hotel in Xi'an had a sort of nightclub attached; I forgot to note the name but it was something like the "Half eight friend making club" - apparently a sort of speed-dating joint. We all thought the poster outside entitled "Ten secrets of women call" was a worthwhile addition to the corpus of self-help literature - so here it is: don't say I didn't tell you.
Tuesday 25/3
The warriors: we were looking forward to one of the highlights of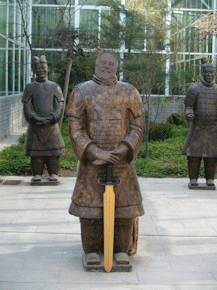 the trip. I said I wouldn't take pictures (we bought the book and had it signed by the bored, grumpy farmer who had rediscovered the warriors) but I couldn't resist it. It was totally different from what I expected and totally wonderful. The sheer size of the thing for a start ...I won't bore you with the details but I have to say that the bronze chariots were probably the stars of the show for me. The parasol on the first chariot (strangely enough referred to as chariot no. 1) actually moved so that you could block out the sun from any angle. From a purely technological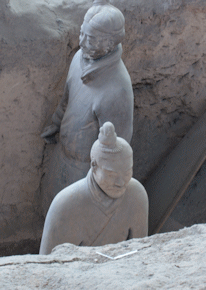 point of view; the swords were chromium plated, a technology rediscovered by Germany and the USA in the 1950's. Geoffrey thought that the side-facing warriors were having a pee: take a look at the photo and see if you don't agree with him.
Back to Xi'an and to the Farmer Painters museum. The very pleasant guy who showed us around seemed to have little knowledge of the historical context: it appears that 'intellectuals' sent for 're-education' taught the farmers to paint. Mostly naif painting, some of it quite charming but nothing to which we were really attracted. A more traditional fan-shaped painting on rice paper, however, fought and won against an even more traditional crane painting for space in our luggage.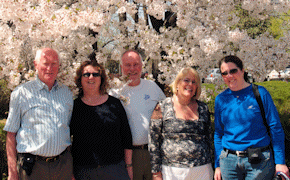 Xi'an is also the start of the Silk Road; following it today seems to be quite hazardous too but at least we've been to one of those semi-mystical places that fired the imagination when you read of caravanserais plodding through the desert.
We had an unexpected pleasure in the Tang dynasty music and dance show followed by dinner. It was great singing, wonderful dancing and musicianship, but one character in particular stood out; he played wind instruments and then warbled them by mouth alone; he danced and he was a really talented percussion player: I have never seen such a performance on the cymbals. It's too hard to explain but it was great.
You may have noticed some reference earlier to a Canadian group that seemed to find our very existence an affront: we kept running into them and, although I'm sure many or even most of them are people with whom we'd love to spend time, every conjunction seemed to have some whinge to the effect that we were unfairly parasitizing their tour. We had another run-in this evening (no fault of ours) and we're beginning to feel victimised: mind you, we aren't taking it lying down :)
Monday 24/3
Early start - we made for the zoo to see the giant pandas before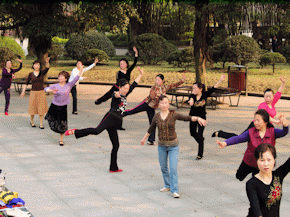 going to the airport. It opened at 0830 but the panda enclosure didn't. However, it was no penance to wait, with tai'chi of every kind going on: in fact, it was abuzz with different people doing their thing. I wandered and watched the hippos start their day and cause grief to their keeper - it was a howl to watch as he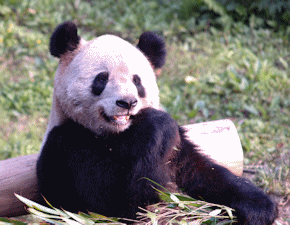 tried to move this very large lump of river-horse that was calmly ignoring him and having its breakfast.
The pandas were fantastic, especially the baby - although we would have liked it to be in a bigger cage. We had thought of missing out on this because the flight was earlier than we had been told; am I glad we didn't.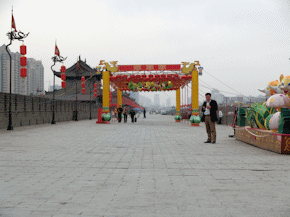 Our bags had been taken ahead and we had been checked in by the bellboys: I could get used to this! Uneventful flight to Xi'an followed by a visit to the city walls - most impressive; 11 miles around, 21 metres wide and all extant. A wonderful foot massage (that involved most of the body and was recommended by our excellent guide Maggie) followed and we got to the Gloria Plaza hotel (OK but not great). Lots of warnings about theft, putting things in the safe and not going down side streets. We visited the local supermarket, fascinating as always, and had a passable (just) dinner. Not a big bar culture around here either :(
The news says it's snowing in London as I rub on the sunburn cream.
Easter Sunday 23/3
Check out early and pay for our indulgences. Went to the bus and drove to the world heritage site at Dazu, having negotiated passage for Matt and Alison, two other "individual travellers" who had been with us on the boat. In a country where normal driving is a game for people with ice water in their veins, we ended up with a driver who was a maniac: to be honest, it was a bit worrying. Alan, our guide, told him to slow down. I don't think they should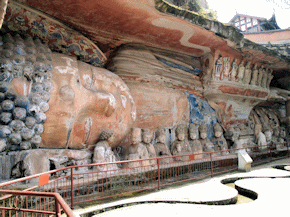 use him at all. Dazu is a hell of a distance; about 160 km of badly pot-holed roads - we spent five hours or so on the bus with our resident maniac that day. The jury is out on whether it was worth it but it was certainly a magnificent sight.
The grotto at Treasured Summer Hill is carved from the rock, thought to have taken 70 years between 1179 and 1249. Among the highlights is a huge reclining Buddha, 31m long, that emerges from the rock - from about waist down he appears to be in the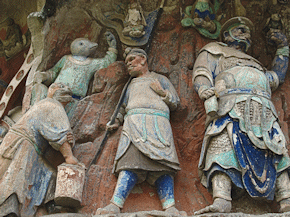 rock. The Goddess of Mercy has 1007 individual arms, each with an eye (the symbol of wisdom) in the palm. There was also a superb wheel of life and some great detail touches (right).
After we got back to Chongqing (in one piece) we drove through some very fragrant streets to our hotel - with not a little trepidation. Our fears were unfounded: it was an upside-down building that had its entrance and reception on the top floor and went down the cliff face to (as we found out to our immense surprise later that evening) an amazing curved-eave, red-lanterned and very 'Chinese' area of restaurants and shops - very fake but very pleasant. Having overcome the "we don't have a booking for you" hurdle we went down in the beautifully painted lifts to excellent if dark rooms. A 'Western' dinner had been arranged, unfortunately: I can see how people could be willing to kill for a burger after too many days of food to which they were unaccustomed (like us in Seoul) but the unfortunate fact is that they do 'western' so badly in China apart from the burger in Day's Hotel in Beijing, which may be the best I have ever tasted!
After dinner we went on a night-time boat trip around the city. This involved failing to get a taxi but flagging down a public transport bus in the middle of a freeway and then traversing what f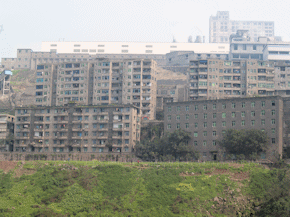 elt like thousands of steps down to the waterfront; we'd never have found it on our own. The boat was completely Chinese - we were the only westerners - and very inexpensive. And the view: the night-time city was, as advertised, very like Hong Kong and completely unlike the grey and rather grim agglomeration we were promised - and saw from the river as we arrived. Chongqing was an unexpected pleasure.
Kate, unfortunately, is leaving us and going back to London, so we're down to five.
Saturday 22/3
The weather has cleared and we manfully climb the steps (the promised 100 steps turned out to be rather more than that but it was good exercise) from the boat to visit 'Ghost Town' (Míng Shān), a hill full of temples in Fēngdū – well, actually, where Fēngdū used to be: it's been relocated across the river. The hill, apparently, will remain as an island when the water rises.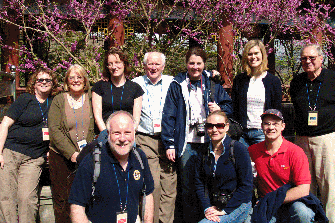 The place is lined with pedlars and our guide, Cathy, warned us off – not just fake stuff but fake change! We chose the ski lift rather than walk: it was very pleasant in the sun, with birds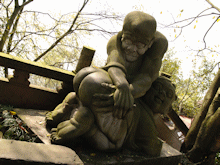 twittering and branches quietly rustling. Lots of temples, as I say: we went to heaven (red) and hell (blue), observing the rites such as standing on one foot on a round stone for the count of three. Both Taoist and Buddhist temples in the one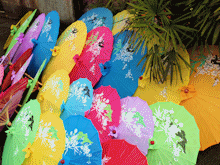 place. When we left hell, unscathed by the ghosts, we all cheered three times. All in all, a very pleasant interlude on a lovely morning.
After lunch we sat on deck in the sun. The scenery is fairly ho hum but you can see a huge amount of construction.
Tonight is the gala dinner on board.
Friday 21/3
Another rainy day that felt better after the inner man had been sorted out. We set off early on a ferry to join the sampans and go up Shennong Stream, which has a series of quite dramatic small gorges. The sampans, or pea-pod boats (because of their shape), are propelled by standing oarsmen – and boy are they fit! The layout has the captain in the stern with a steering oar. There's a rower just in front of him; then the passengers, all dickied up in their lifejackets; then three more rowers and the 'second captain',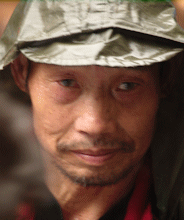 who sits in the front and propels the boat with a bamboo pole in the shallows. They had another demonstration too; the rowers jumped out with a plaited bamboo rope to which they attached rope and cloth yokes and pulled us along, while the second captain kept the rope free of trees and bushes with his pole. Apparently they used to pull the boats naked - there's an impressive photo on the ship - but with the tourists coming that has all stopped. The ladies expressed disappointment.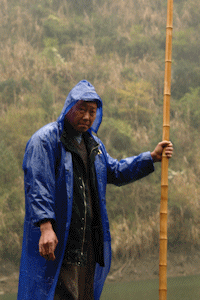 This was a great trip, although it should have been fairly boring with the rain and the fact that we were just sitting there. On the way back our guide, Nancy, sang for us: she had one hell of a voice. She is half Han and half Ba Dong Tujia, one of the local ethnic minorities: I bought the CD (without even bargaining). We even got in a verse or two of our own along the way.
Back at the boat, a bit sodden but happy, for a pirate themed lunch and a relaxing afternoon. The gorges were fairly heavily overcast and the rain came down in buckets, clearing up after we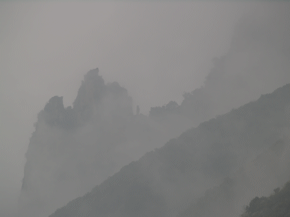 docked for the evening - typical. And guess what? Drinks before dinner in our cabin, dinner, the crew show and bed. I could get to like this: I could also get to 22 stone very quickly :(
Thursday 20/3
A good breakfast, during which we cast off. The locks were spectacular; five steps (but only four in use yet because the lake behind the dam isn't full. Took a few hours to get through. They're building a ship lift for boats up to 3,000 tonnes. Lunch was really excellent.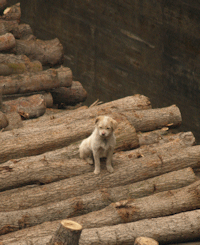 The weather got worse as the day went on and ended up raining and sodden – just like home! A bus trip took us through a really ridiculous security check before going via the bridge over the locks and to various viewing points. Couldn't see a thing.
We, as "individual travellers", had been allocated to a shared guide with another tour group. As we left, one of the group came up to me and said that he thought we were with the wrong group; this was their guide. I checked with the guide, who told him we were in the right place. However, later, we heard one of the women complaining about those independent travellers who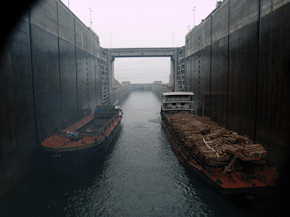 thought that they could just turn up and join another group. We decided not to waste our breath suggesting that she get a life: I contemplated taking the mike at the end of the tour and saying how delighted we were that the tour group could join us ….
We had a few drinks with the gang in our cabin, then a reasonable dinner (nowhere near as good as lunch) at which we found out very publicly that Matt, our English table-mate, was celebrating his birthday. We also found out that they don't half rip you off on the wine price: a basic local Cabernet was Y270, as opposed to Y25 – 50 in the shops. The crew show was a bit of a giggle and starred the lovely Lulu from front office, who could definitely move!
Wednesday 19/3
Lunch-less to the airport. An uneventful flight; met by Sally, our new guide – definitely the best we've encountered. She made Yi Chang into a really interesting place and the incomprehensible (and uncomprehending) Ching Ching in Shanghai made the improvement seem so much more dramatic: we all wish we could have had Sally in Shanghai; I think the city would have proved much more fascinating. The embroidery factory was very interesting: the only work four hours a day but when you see the intricacy of the work …. Their pay is Y700 per month!
We then had arguably the best 'table meal' of the trip in a local restaurant, followed by a stop-off at the China Post supermarket (!) for beer and water for the boat trip. A phone warning from another guide of a traffic jam on the way to the boat resulted in us taking a detour – a very long one. It was a bit like a traffic jam on the Rock Road when making for the boat at Dún Laoghaire and going back into town to take the M50 instead.
Finally arrived at the East King and were impressed – I must admit I had worried that it wouldn't live up to the promise. We decided to try for an upgrade to a cabin with a balcony but there weren't any: we upgraded to a bigger one anyway so now are sitting in our sitting room, no less.
Tuesday 18/3
Breakfast at the Galaxy left a lot to be desired. It was the 'tour group' breakfast, in the ballroom – a filthy, scruffy place with stained chairs, worn and dirty tablecloths, a carpet that needed serious cleaning and a singular lack of spoons, as well as revolting, cold tea. The actual food was not bad, in fairness.
The rain made the Oriental Pearl Tower a bit of a non-event. We didn't get the opportunity to see the museum. Then a silk carpet factory; all painstakingly hand-knotted and incredibly beautiful. Then lunch – more food too early in the day – before being released back to the hotel and our own programme. (We turned down the opportunity to have lunch tomorrow at 10.00: we're entitled to lunch but since the flight is at 13.20 we have to have lunch at 10!)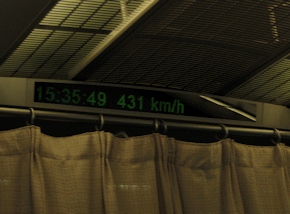 We were nowhere near where we thought we were, and it was a long taxi trip to the Maglev. We bought the first class tickets and whizzed to Pudong airport and back at a top speed of 431 km/h. We then braved the Metro – actually a very pleasant experience – and got to reasonably near the hotel (for Y5) before visiting the local Carrefour, a much more up-market one than the one we visited in Beijing. Stocked upon booze for the cruise and got back to the hotel in good time for a rest.
Dined at M on the Bund. It came highly recommended, and rightly so – great buzz, excellent food and good service. I had a Greek plate to start, followed by a tagine. The house wine was perfectly acceptable. Followed by a very nice bar somewhere further down the bund – no idea where it was.
We like Shanghai!
Monday 17/3 – Lá 'le Padraig
Off to the airport for a flight to Shanghai. Met by our guide, Ching Ching, who has appallingly bad English and mostly doesn't understand what we're saying to him. He seems willing so we give him the benefit of the doubt, but by the end of our stay we're not so sure: he seems to lose any comprehension at all when he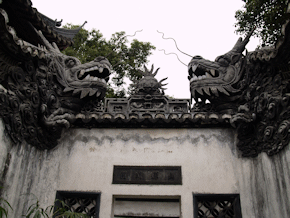 doesn't want to hear. We do a trip around the Yiyuan Gardens and Bazaar: the whole place looks much more what we would call 'typically' Chinese than the buildings in Beijing: upsweeping roof ridges and so on – perhaps it's colonial architecture rather than Chinese. The Galaxy hotel left a lot to be desired.
Sunday 16/3
We went to the Pānjiāyuán curio and antique market. We initially thought it was either small or that we had missed it and they'd all gone home. Then we found the main market; huge, crowded, great fun. They hassle you a bit but nothing like the silk market. Then off to the St. Pat's parade on Wangfujiing Street. They had children's choirs – not my cup of tea – speeches by Dick Roche, the ambassador and Chinese dignitaries and a very short parade: they had been reduced by 'authority' to a couple of hundred from the original 700 or so but this was the first parade of its type in Beijing and baby steps are required. Well done to the embassy for arranging it and to St. Pat for attending, even if the legs were somewhat dubious.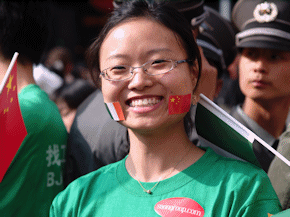 We did a suit/jacket fitting and then joined the rest of our tour group for dinner in a restaurant far far away - or so we're led to believe by Celia, our guide. It turns out to be quite near the hotel. Strange!. Mary and Geoffrey are a lovely pair from Mayo. It looks like we've a lovely bunch of companions.
Saturday 15/3
Some serious shopping. Went to Ya Xiu market, a sort of less frenetic version of Silk Street, where we were measured up for a suit (me) and two jackets (Anya). We failed to find the local (Sunlitun) Xiao Wang's Home Restaurant (it's been demolished to make way for some new tower blocks) and were trying to explain to a taxi driver that we wanted him to take us to the main Xiao Wang's when we got help in the form of a westerner who spoke fluent Chinese. He told us that the Xiao Wang's in the book was probably a fake and that the real one was just inside the north gate of Ritan Park, so off we went. Sure enough, there it was; we had a truly wonderful meal and tried out their special wine, a Great Wall special reserve Heilin (I think) Cabernet.
That evening we met two of our tour group (there's only six of us); Val and Kate. After dinner we repaired to the bar. Seem like kindred spirits. Mark, Kate's ex-boss now based in Oz but in Beijing for business joined us and recommended a restaurant in Shanghai.
Friday 14/3
We went to the Tibetan Lamasery and the nearby Confucian temple. The first was certainly more compelling than the latter. We then tried to find the Eje Bar, self-styled hardest to find: true, we failed, despite a lot of wandering about in the hútòng.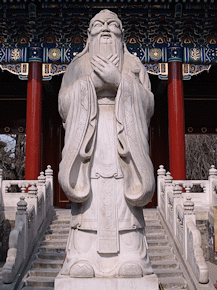 Reception at the Irish embassy. Great fun; met the ambassador, Declan, and Mrs. Kelleher (Sigrun) – a friend of Veronica's. Spent a lot of time talking to Dick Roche, who was very amiable company. Met some of the locals, including a man working for an Irish charity and another who got bored with retirement and is in the IT business here. He's promised to take me to the electronics megastore when I get back to Beijing.
Thursday 13/3
Temple of Heaven, much hyped by Marilyn - and rightly so. It was an experience. I was so sorry I'd decided to leave the camera at the hotel. For a start the place was heaving with people doing taichi, many with a heavy, soft ball on a badminton bat. There was a bunch of ladies doing amazing things with long pieces of colourful cloth on the end of a stick. All along the covered walkways there were people singing (with their personal amplifiers), playing traditional instruments, playing mah-jongg and chess, selling stuff or just sitting around. There was also some ballroom-cum-salsa dancing.
The place itself was quite interesting and in places beautiful. Two thins of note: the place for the preparation of sacrificial animals was to the right of the main temple where the emperor prayed for good harvests. The animals needed to get to the temple but they couldn't go onto the roadway ("the bridge") - in fact, only God could walk on the centre path and the emperor and his family on the side ones so a way through underneath was built: China's first cloverleaf.
Back for the specs – doleful admission that they couldn't do it but that they could have it done at a specialist place in ten days – no change then from back at home. No price increase mentioned, although we expected it, so we agreed. More cushion covers and bits and pieces. Lunch at the Bookworm; not at all up to scratch, in my opinion, but worth it to see the ex-pats in full swing.
We tried for Xiao Wang's Home Restaurant that evening. After much discussion between the taxi driver and the bellboy we were brought to a restaurant that he assured us was the right one. We went in and found that they had one English translation of the menu – this definitely didn't seem right. However, we ordered some food which turned out to be excellent and the whole shooting match, including two large beers, came to the princely sum of Y107. We walked a little afterwards and found Xiao Wang's: it looked nice so we determined to try again.
Wednesday 12/3
We tried Silk Street; what an experience. They really do pull at you. Anya got some pearl earrings to replace her broken ones and I got a rucksack, as well as a big media card for the camera. Anya had spectacles were in mind but not at Silk Street; however, we found a place there and did a deal: they said they'd have them the following day. We also started into the silk cushion-cover buying saga. You get used to the pulling and constant selling and just smile through the whole thing – especially the bargaining. One lassie told me I was a very hard bargainer; I said no, she was still smiling, so she immediately started the crocodile tears. It was fun.
We had lunch at the Peking Duck speciality place on the top floor - quite nice but the pancakes were a bit doughy. We obviously weren't folding them properly, though, so we got a lesson from the waiter: main learning; keep all the filling in one layer and fold up the bottom part before rolling.
Tuesday 11/3
Off to the Summer Palace, since Anya hadn't seen it and it was one of her main reasons for wanting to come to China. I was happy to be tour guide and show off my learning form the previous week but we got an audio guide just in case. The experience was pronounced satisfactory.

We booked ourselves into the Beijing opera and dined at the restaurant there. Despite Dan's assertion that we'd leave at the interval – if not before – we stuck it out for the whole thing. In fact it was rather pleasant, although I think it was a version especially tuned to the tourist market: purists would probably have been horrified.
Monday 10/3
More goodbyes and off to a shopping centre miles away recommended by Mary that, she said, would have stuff to suit Anya and at a reasonable price. Wrong on both counts and they didn't take Amex either.
Then to our new hotel. A much different kettle of fish than the last. We upgraded to an executive room, which cost about the same as one day's internet access (included). The bed was the biggest I've ever seen.
There's a supermarket around the corner from the hotel so we stocked up on necessities (booze and water). That night we had dinner (with wine) in the attached Chinese specialty restaurant. Very pleasant as well as an experience.
Anya's bag turned up, finally.
Sunday 9/3
The 'day out'. Started at the jade factory; some lovely stuff but expensive and heavy. Went to the Great Wall at Badaling, the main tourist bit: very crowded and a bit misty but very, very impressive. I would love to have seen it at dawn on a good day, on my own or with a small group. Lunch at the Friendship Store and back via the Bird's Nest Olympic stadium and the swimming cube.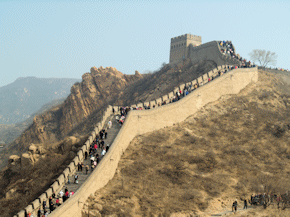 That night we went out to the Sichuan restaurant recommended by the minister. It was in a gated complex quite a distance away that included a hotel, what appeared to be a booze-related institute and a number of other buildings, all set in lovely grounds. It was, of course, quite dark. Loads of excellent, spicy food and, of course, Moutai and toasts. We presented our gifts, speeches were made and declarations of lasting friendship. A great night. Completely tired out, off to bed as soon as we got back and said our goodbyes.
Saturday 8/3
Anya's board meeting; I went to the Western Beijing train station – awesome. All human life is there, as they used to say on TV, but the sheer size of the underground part is mind boggling. You could get lost down here. I navigated my way out through the side nearest our hotel by dead reckoning and took a further walk to get a feel for the city. Joined the others for lunch and then went shopping for gifts for our hosts. We went to Beijing World Trade Center mall, probably the most expensive place I've ever visited – especially for European stuff. We must remember this and arrange a selection of light, small European/Irish gifts back home for future events.
That evening we were guests of the director of the Forensic Science Institute. If they eat like this every day …. Lots more Moutai and toasting. Finally, a last sleeping beer with Hans and the usual suspects.
Friday 7/3
Anya has to go shopping before she's on stage. Mick Smith, Dr. Yoo and I have commissioned Mary for the day (Y300) and we make for the Summer Palace. Not at all what I expected but quite wonderful. We enter way down at the end of the lake and walk towards the main palace. A great 'long corridor' – a sort of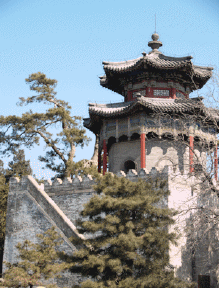 covered walkway – has a different work of art on each roof beam. It's quite misty but very nice wandering along with Kunmig Lake on the left and the hill (made from the excavation of the lake) on our right. We climbed to the Temple of the Sea of Wisdom with the many-handed Buddha and then down a different way; you could see how it would have been very pleasant in the summer with its many shady courtyards.
We went for a tea ceremony but the government had told the owner to close it while they were constructing a new road outside; no amount of convincing from our guide had any impact. So, on to a traditional local restaurant (not frequented by foreigners), for a really good lunch but with way too much food.
Mick and I then took a tour of the nearby hútòng, a truly fascinating trip that included a visit to a home. The owner explained, through Mary, that his family had been a fairly upmarket one employed at court in the nearby Forbidden City and that they had owned many courtyards in the hútòng but after 1949 they had been reduced to one. It was a weird experience: we were welcomed, there were only a few bits of calligraphy we could buy and they weren't pushed very hard and they were very pleasant: we couldn't figure the business model. Maybe we're too cynical. A lady of uncertain years, long boots and micro-dress accompanied an old man who wanted to have his photo taken with Mick and I; she then left with him. Another business model we couldn't figure …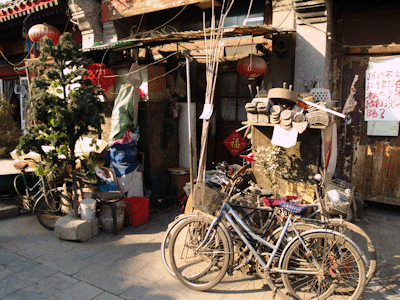 We told Mary to go home (she had a 3 ½ hour commute from our hotel but only 2 hours from where we were). Later, she called us: apparently she was in trouble for not coming back with us.
A meal on our own at the hotel and off to the acrobats – a truly amazing spectacle – followed by a sleeping beer again.
Thursday 6/3
No bags. A change in schedule occasioned by a meeting with the Minister for Something, who is opening Anya's conference, means that she is now not speaking until tomorrow so we go touring. Our guide is Mary and she's very good. The forbidden city is all I hoped and more. The government sells off newish antiques (to pay for the Olympics, we're told) so we can buy stuff here with a government certificate of authentication. We found a wonderful pair of horses that appealed to both of us but we didn't splurge: we'll be back before we leave China and we didn't want to spend on the first day.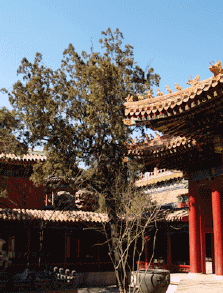 That evening we have dinner with the vice-minister for public security in the classy International Hotel. Very formal, lots of speeches (and photos) and lots of toasts again, with an interpreter to hand to translate everything anyone said: poor bugger didn't get much time to eat. I'm wearing the chinos I travelled in and my woolly jumper. We have the famous and expensive pine mushrooms, shongren, that are the same as we had in Korea at a big dinner in an expensive restaurant there. Very enjoyable, if a tad wearing. On the way out I tell the minister that I want to introduce him to Irish whiskey so, if he's ever in our part of the world ….
My bag has turned up but not Anya's. Oh dear. A sleeping beer with Hans and the usual suspects.
Wednesday 5/3
The flight is uneventful and we arrive in Beijing. The bags don't, except the carry-on we were forced to check in.
We're met as promised and brought to the Da Fang Hotel, which is nicer than we expected. Nothing much of interest around, though. That evening we have a Chinese feast and are introduced to Moutai, very, very expensive and very strong spirituous liquor that our hosts introduce as "white wine". Apparently the same Chinese word (jiŭ) serves for any alcoholic drink. Lots of toasting. A little Chinese red wine as well (not bad), with lots of tea and beer. Then a sleeping beer with Hans and the usual suspects.
And so to bed, but not a lot of sleeping – the jet lag has kicked in.
Tuesday 4/3
Goodbye to the mutts and off to the airport. Arrive in London to find our flight to Beijing "suspended": airline-speak for cancelled. So, instead of BA World Traveller Plus and a bit of legroom we're on Air China steerage class, about five hours later. We're in T1, our luggage is in T4 and our flight is from T3, so we're sent to get the luggage and bring it to T3. But it's not in T4; it's in t1. "Don't worry", it will be transferred for us – do check at T3, though. Off we go, but check-in doesn't open for some hours and no one can tell us where our bags are. Neither, when it opens, can the check-in people: they do tell us, though, that our carry-on allowance is 5kg, half BA's, so we have to transfer stuff to one bag and check it in.

Home

Tasting Resource

Quotes

Links

Features