Preamble Tasting January 2004
Further Down Under
John Pierce
A personal selection of nice wines from nice people in New Zealand - that are available here!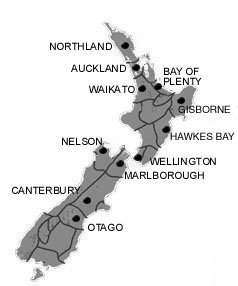 No star ratings because this was my personal selection and I'm biased - I'll seek advice from colleagues and include their ratings later.
1. Montana Lindauer Brut NV


I would have liked to have presented either Pelorus vintage from Cloudy Bay or Huia Brut, both of which are exquisite and available here, but mindful of the club's financial circumstances you got Lindauer Brut from Montana instead That's not to say that there is anything wrong with it; on the contrary, it performs consistently well in blind tastings. Straw hued, moderately complex, fruity yeasty flavour and a soft, smooth finish. It is made from Pinot Noir (50%), Chardonnay (30%) and Chenin Blanc (20%) grown in Marlborough, Hawke's Bay and Gisborne and matured on the lees for 15 months. It's a great buy at the price. We tried this at their Brancott winery and were impressed; there are three Montana wines here tonight.
€16.69 - Widely available
2. Huia Gewurtztraminer, Marlborough, 2000
Huia was one of the wineries most consistently good across the range of varieties. I chose the Gewurtz as one of the most exquisite examples we tasted. It is before the SBs because it is so delicate and charming that I would fear for it if we put it with the Riesling, where it belongs. It comes from the Hassan Traminer View vineyard and, for the first time, Fell Vineyard, one of the oldest vineyards in the Wairau Valley. (The 2002 was from the Fell vineyard.) The distinctively Turkish delight flavoured Gewurztraminer grapes were picked from 21-year-old vines on their own roots and it was fermented with indigenous yeasts. On the nose, rose petals and honeysuckle abound. This is an aromatic full flavoured wine with floral, lychee and fig. The balance and depth of the palate supports a long dry finish. A wine to last a few years and improve as it goes.
Huia Vineyards was established by winemakers Claire and Mike Allan, who were drawn to Marlborough by the intense fruit flavours in the wines. I understand from Charles Searson that Mike trained at Vavasour, one of my other overall-favourite wineries. They have a great sculpture of a fish made from car parts and forks.
€15.99 Searson
3. Montana Reserve Sauvignon Blanc, Marlborough 2003
Montana is the biggest producer with vineyards in Gisborne, Hawke's Bay, Waipara and Marlborough, and tends to be sniffed at a bit because of it. Even apart from the stuff, like their Saints range, that we can't get here I have to say that I was extremely impressed by what we tasted. The range of brands is vast, including their 'Icon' wines, Tom (Sold in NZ, $100) a Bordeaux-style red wine produced only in outstanding vintages from the very best terroir, and Virtu (Sold in NZ & Australia, $38 - 375ml), a traditional Sauterne-style sweet wine, intense, concentrated and luscious - truly an "object of desire"; their Super Premium range, which includes Babich, Church Road, CJ Pask: Gimblett Road & Reserve, Domaines Schlumberger from Alsace, Gibbston Valley - Central Otago, Lawson's Dry Hills, Louis Latour, Mas de Daumas Gassac, Montana Reserve - NZ , St Hallett - Barossa Valley, Wither Hills and a host of others as well as their premium and value ranges and even some cask wines.. They also have a host of champagne and sparkling labels. Those that you can get here come from Grants or Irish Distillers.
This is from their super premium range and it features fresh, distinctive gooseberry flavours, enhanced with rich lush tropical fruit. Strikingly intense gooseberry, melon and tropical fruit flavours are well-balanced with crisp acidity, a decided green capsicum flavour and a lingering finish. Powerful, punchy, fresh, vibrant, smooth and long: At this price, not bad at all!
€13.99 Jus de Vine
4. Vavasour Awatere Valley Sauvignon Blanc, Marlborough, 2002
Another winery that scored near the top for overall quality, Vavasour makes wines that are as elegant as the bottle. The rooster is part of the family crest – they go back to the Norman invasion of England. In the early 1980's Peter Vavasour took a keen interest in the viticultural developments of the Wairau Valley in Marlborough. After some research it was found that the climate and soils of the Awatere region were quite similar but less fertile (this is a good thing) than the Wairau. The Awatere Valley is also drier, and they control the growth of the vine with the irrigation water.
The 2002 Vavasour Awatere Valley Sauvignon Blanc fruit shows mineral and lime characters which underpin the ripe fruit flavours. This wine was hand picked, whole bunch pressed and fermented in older French oak barriques. This allows the wine to evolve without excessive oak flavour. After fermentation is complete, some of the wine remains on the lees and is stirred weekly. Quite flinty, the wine shows ripe passion fruit and rich apricot notes on the nose. The creamy palate exhibits persistent passion fruit flavours with caramel and a touch of vanilla oak.
€14.50 Oddbins
5. Villa Maria Private Bin Riesling, Marlborough 2002
Villa Maria advertises itself as New Zealand's most awarded wine. Just taking a look at the Air New Zealand awards announced in late November or early December shows that they might be telling the truth. It's owned by one George Fistonich, who founded it in 1961, so it's ancient by NZ standards
This wine is reasonably priced, but they have premium ranges that you just don't see here. Although PB is their "affordable" range, this wine seems to me to be in the Alsatian tradition. It comes from various vineyards from both the Awatere and Wairau Valleys of Marlborough. A lifted bouquet of ripe citrus-lime and spring-blossom aromas. The palate is beautifully balanced with intense flavours, great length and a zesty lime finish.
€14.99 Oddbins and various

6. Brookfields Ohiti Estate Cabernet Sauvignon, Hawke's Bay, 2002
We went for a tasting and stayed for one of the best lunches we had in NZ. (Wairiu River was also great for food but you can only get their SB here). In fact, I think this was our favourite winery to visit. We were especially fond of Bacchus, the winery dog, who was a giant sized boxer with a temperament as pleasant as its owners. Our favourite wine was the Syrah, but Joe Karwig doesn't bring it in (yet). The CS, though, struck me as one of the best I tasted, and I want to say a special word of thanks to Joe, who went to heroic lengths to get these two bottles to me – he got them out of bond on last Friday afternoon.
A fantastic expression of Hawke's Bay Cabernet, this wine exhibits a polished, integrated mixture of berry fruit, leather and spice on the nose, and a palate full of ripe fruit. It has lots of character, silky tannins (matured in French oak casks), and a great deal of elegance..
Brookfields, on the Tutaekuri River, between Napier and Hastings, was founded in 1937. Peter Robertson bought it in 1977; and he and his wife Sharon are a charming couple.
€19.50? Karwig
7. Framingham Merlot/Malbec, Marlborough, 2001
We voted Framingham overall best winery. You are all familiar with their dry Riesling, and many with their scrumptious Classic Riesling, but they have a lot to show right across the piece. The place is also very beautiful, with gorgeous rose gardens and a fountain.
I would have preferred to show their Montepulciano, a superb wine by any standards, but they don't export it at present, so here is the Merlot/Malbec from the Framingham vineyard; shallow and stony soils with overlying sandy loam, well drained. 60:40 blend.
A deep ruby red, it has sweet plum and berry fruit flavours, mingled with some spicy, savoury notes derived from the Malbec component, which gives it a big backbone. The palate is rich, supported by some vanilla oak notes and a firm, leathery tannin structure. This tannins should continue to soften and integrate over the next 4 - 5 years. A good depth of flavours. Impressive. €13.50 Various (Gleesons import it)
8. Esk Valley Black Label Merlot/Cab Sauvignon, Hawke's Bay, 2000
The place is fairly basic but it produces some exquisite wines. Their reserve Merlot/Cab/Malbec is considered a classic and you can get it here at a price, but this is quite an impressive version at a reasonable price as NZ wines go. I wanted to show their 100% Merlot, which impressed me enormously, but Findlaters don't bring it in. (I've suggested to Nigel that they should). Though it says Merlot/Cab, it is Merlot, Cab Sauv, Malbec and a very little Cab Franc, matured for a year in French and American oak casks. It's is a full-bodied, weighty and rich Hawke's Bay wine. It possesses a very deep colour, and a bouquet of plums, red fruits, dried herbs and hints of sweet oak. The palate is concentrated and well fruited with a firm palate structure providing ageing potential. This wine can be enjoyed as a young wine or cellared for up to five years with confidence.
Esk Valley is part of Villa Maria; it was previously Glenvale, which went bust in the 80s. It sources its grapes exclusively from Hawke's Bay, from both its own vineyards and from contract growers.
Adjacent to the winery itself are the famed 'Terraces' vineyard, which produces the limited edition icon wine bearing the same name. Bring your chequebook!
€19.50 McCabes

9. Montana Reserve Pinot Noir, Marlborough, 2001
While we were here we seemed to go from just another tourist to someone they were interested in – not bad for a monster company, and we got to try a number of things that weren't supposed to be available.
This is the sibling of the SB we had earlier, and again an impressive mouthful at the price.
From the Wairau valley, it is a deep ruby red, with ripe black cherry and plum fruit aromas coupled with leather and a balanced oak toast and spice. The palate exhibits a soft, sweet approach with loads of ripe berry fruit and dark cherry flavours along with a hint of chocolate and leather – quite a grip. The tannins are full and ripe and will ensure good aging potential for the wine.
€15.99 Jus de Vine
10 Nautilus Pinot Noir Marlborough 2001
Nautilus Estate wines were first released in 1986. Since then, the viticultural focus has been on Marlborough where two estate-owned vineyards complement the small coterie of contract growers. French oak is used extensively during fermentation and maturation to complement and enhance the fruit flavour.
The Nautilus Marlborough Pinot Noir 2001 is dark ruby in colour with aromas of raspberries, plums, spicy oak and a hint of violets. The palate is full bodied with fine soft tannins and generous fruit flavours adding length and structure to the intense finish. This Pinot Noir will benefit from a further 3-5 years cellaring, which will see the development of secondary 'earthy' aromas and flavours such as game and mushroom. I think that this is a quite Burgundian Pinot, very earthy, very leathery, and needing time to develop… but elegant.
€22.99 Jus De Vine(David Cassidy Wines)
11 Peregrine Pinot Noir, Central Otago, 2002
And finally …Peregrine makes what they call "Wines with Altitude". And it is a gorgeous place as well. I know it's pricey but this was one that I felt I had to include. Minimal intervention is their goal – they want to let the unique flavours of Central Otago grapes shine through and believe that the less you do the more you retain.
A lovely warm late summer with cool nights provided the perfect climate for the 2002. The fruit used was sourced from a variety of vineyard in the Gibbston, Lowburn and Northburn areas. The wine was matured in a mixture of French oak barrels for ten months, allowing integration of the spiced clove characteristic of French oak with the more traditional flavours of Pinot Noir. The resulting wine shows a complex variety of strawberries, blackberries, plum fruit flavours, delicious earthiness and rich spice. Full bodied, soft in texture, with a long warm finish. Quite a French style, I thought; quite complex. 14.5%.
€28.49 Oddbins

Additional Info on New Zealand
New Zealand's national production is 12,822 ha, of which red varieties occupy 4424 ha (Pinot Noir 1,716, Merlot 960, Cab Sauv 727, Cab Franc156, Malbec 110 and Syrah 101ha) and white 8398 ha (Chardonnay 3424, Sauv Blanc 3086, Muller Thurgau 342, Riesling 583, Semillon 248, Muscat varieties 126, Chenin Blanc 139, Gewurtztraminer 159, Pinot Gris 219 ha). The Muller Thurgau is a hangover from the advice of an imported German expert in the 1960s, Dr. Helmut Becker, who might have recommended planting Riesling but instead went for making a better Liebfraumilch. New Zealand voted for prohibition in 1919, and until as recently as the 1980s the whole drinks industry was treated with disapproval. Interestingly, the emergence of the wine industry and a wine-drinking culture seems to be bringing on a new food culture: Nearly all of the great food we had was at wineries. The New Zealand bloke beer culture doesn't do much for the standard of food.
Although New Zealand first came to international note for its incredibly zingy Sauvignon Blancs these are now eclipsed to a great extent by excellent Rieslings and some wonderful Chardonnays that regrettably aren't available here (with the exception of Cloudy Bay, but since I was already breaking the budget I thought I'd better not). Some of the Pinot Gris we tried was also outstanding.
The reds have gone from strength to strength, with the Pinots getting a great deal of attention, but the Syrahs though quite rare, have some outstanding examples – especially one from Brookfield - and I found one exquisite Merlot from Esk Valley that unfortunately Findlaters doesn't bring in. A lot of the wines here tonight are from Marlborough – that's what people are bringing in – but I've managed to get a few others to introduce some variety. See the map for details.



Home

Tasting Resource

Tasting Notes

Quotes

Links

Archive